To all who supported Living Waters' in the recent earthquake project, your response was a direct outpouring of Gods love working through individuals and organizations. On behalf of the recipients of compassionate services provided in Turkey, Kurdistan-Iraq and beyond, and as the president of Living Waters Intl, I want to say thank you for your generous support. Our Board stepped out in faith that God had a particular mission that He wanted us to accomplish and though the odds seemed unsurmountable in the beginning and throughout the project, I can attest that God's will has been done.
I have arrived home, and in the near future I will be posting a more detailed report including pictures, experiences, challenges, miracles and "the rest of the story". I have several presentations planned on March 25, in Payson AZ and May 6th at Mesa Palms SDA Church in Mesa Arizona. If you are interested in attending either, please contact me directly at doft@LivingWatersIntl.org so I can provide you location information.
Thank you again and stay tuned.
Daryl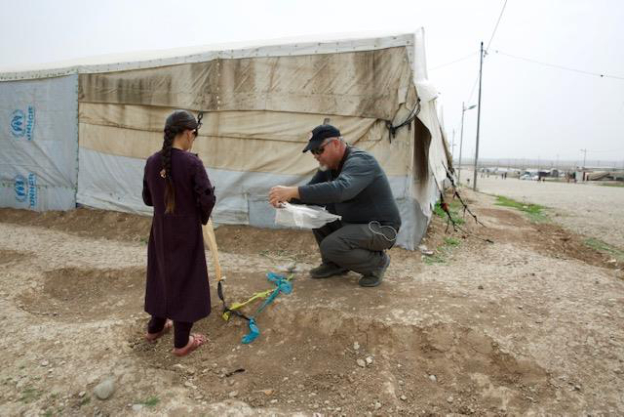 What a transformative experience this has been for both our team and the host team that we worked with.
In general this society of Muslims have been indoctrinated to despise Christians.
For the very few days of our time in Kahramanmaras, in every case there was a very positive bonding of humans that crossed religious stereotypes.
By not proselytizing but being there only to give compassion in whatever way we could, the bonds of human love were experienced and expressed.
Barriers were torn down like the fall of the Berlin Wall and Muslim men who knew we were Christians were verbalizing and demonstrating their love for us by hugs and deeds.
Wow!!! An experience that in itself was more important than a thousand gallons of pure water.
God's love was on display.
The gospel was demonstrated in a region where it could not be preached.
The work has concluded in Türkiye and the majority of the US team has left to return home.
Daryl is spending a restful weekend at a friend's home and then flies to Iraq on Sunday where he will assess possible locations for water systems in Syrian and Iraqi displacement camps in Kurdistan.
There is much still to be accomplished and he needs and is asking for your prayers as he continues on this faith journey.
In our measurement of success the experience in Türkiye exceeded our expectations in ways we will share in coming updates.
Thank you all for your support to Living Waters and know that your generosity has helped those in earthquake torn Türkiye in unexpected ways.
Your help is very needed and appreciated. We are currently caring for 100 children every day. It costs $40.00 a month to provide meals, a school uniform, and medical care for each child. We believe every child deserves to eat. Thank you for helping us help them!
How to Donate:
Online: livingwatersintl.org/donate-online/
Note: Please be aware that all credit/debit card donations processed through Paypal or Authorize.net will be subject to a processing fee on each transction.
Send a check to the address below.
Note: If you would like for your donation to go to a specific area of this ministry, please let us know and we will direct your gift to fill those needs.
We Accept Zelle!
If you prefer, you can Zelle us directly at 928-978-4663 or mjoft@livingwatersintl.org
Or Call Mary Jo: 928-978-4663
Donations and Correspondence:
Living Waters Intl.
1107 S. Beeline Hwy #4
Payson, Arizona, 85541
Phone: (928) 472-3388
Fax (928) 472-4364
We are a 501c3 non-profit organization.
Your donations are tax deductible.