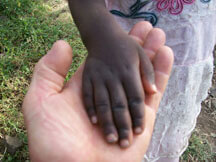 Your financial help is needed for ongoing operational expenses associated with needs in the following areas:
The Feeding Center
Medical Supplies and Equipment
School Supplies
Needs for the Orphan Children
Presently 150 children and a limited number of very elderly widows receive only 5 meals a week that you are able to provide? For as little as $30.00 per month you can provide for one child; a meal each weekday, one school uniform each year and basic medical care.
It is our goal to develop collaborative partnerships in resource-sharing to accomplish this project. It is important to know that there are no administrative fees associated with this project and 100 percent of your tax deductible, cash or non-cash donations are directly applied to this project.
Your support is appreciated and necessary to accomplish this mission of bringing safe drinking water to a thirsty world. You may direct your gift to the need you are most passionate about.
We are a 501c3 non-profit organization.
Your donations are tax deductible.
Send a check or money order
Note: If you would like for your donation to go to a specific area of this ministry, please let us know and we will direct your gift to fill those needs.
Donations and Correspondence can be sent to:
Living Waters Intl.
216 W Quail Trail #502
Tonto Basin, AZ, 85553
Phone: (928) 472-3388
Fax (928) 472-4364
We Accept Zelle!
If you prefer not to use our online donation form, you can Zelle us directly at 928-978-4663 or mjoft@livingwatersintl.org